Visual Arts, Classes & Workshops
Creative Fabric Collage with Hedy Campbell
Explore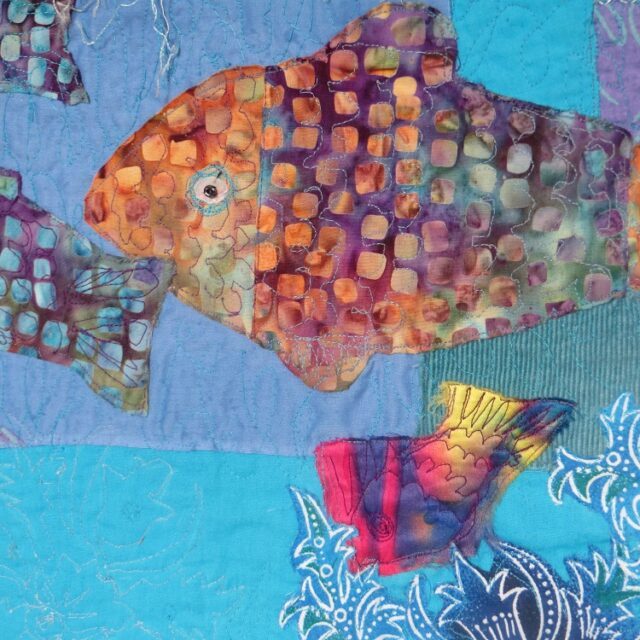 ---
About Creative Fabric Collage with Hedy Campbell
A unique learning experience that will introduce you to the engrossing world of Textile Arts.
Join textile and collage artist Hedy Campbell in exploring Fabric Collage - the layering and assembling of fabric pieces to create a work of art. With Hedy's guidance, participants will learn and play with various bits and see
shapes form into a textile artwork that can be framed, made into an art quilt, or tote bag. We will be working with raw-edge fabric bits and adding texture and interest with hand-stitching.
Sundays. May 28, June 4, 11, 18 & 25 from 1:00PM to 4:00 PM.
$125 per participant for a 5-week program.*
*Fabrics & materials provided however we encourage participants to bring in items they might like to include.
Basic knowledge of hand-stitching is required to finish the project. Machine stitching can be added at home if desired. Samples of both will be shown in class.
About Hedy Campbell
Hedy studied fine art at Central Tech Art Dept., Toronto, and Queen's University. She has created art illustrations for major publishing houses in Toronto. Her paintings and collage artwork have been shown in galleries and shops in Oakville, Toronto, Chicago, and locally, and in many juried shows. Hedy has over 20 years of experience teaching art in schools and workshops.
Hedy is an artist, art quilt designer, and educator, with many years of experience teaching in school and community settings. She is passionate about Fabric Collage and sharing her knowledge to inspire students to explore various techniques that can further their creative path beyond the workshop.
---
---
Learn More