Classes & Workshops
Gorgeous Resin Geodes
Explore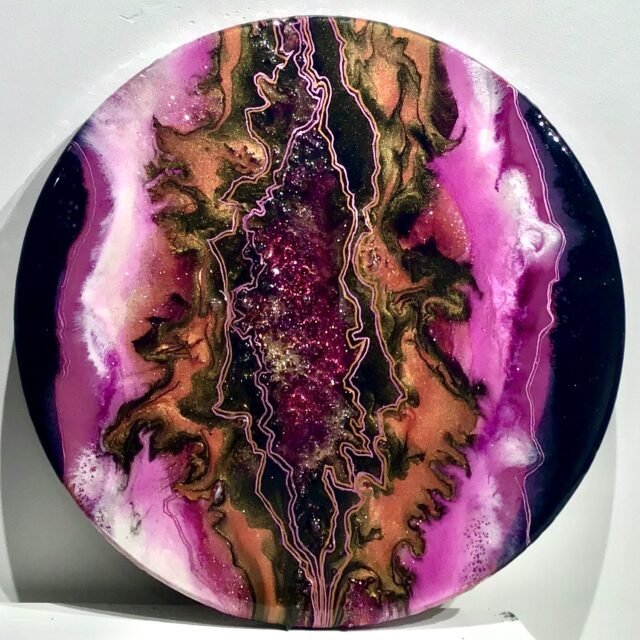 ---
About Gorgeous Resin Geodes
Create a jaw-dropping geode using a creative multi-media approach.
During this 2-week course, instructor Sherry Heyliger will guide you through the creation of a layered geode using glass gravel, Micas, acrylic, alcohol ink and resin. You will learn some fundamentals of working with resin for art making.
Sunday October 30 & November 6 from 11:00 AM - 1:00 PM.
$105 for a 2-week course. Materials included, including either an easel or hanger for display.
A Note on Safety Measures
During this class we will be using epoxy, heat guns, glass and torches. By signing up for this class - you acknowledge that you take full responsibility of the use of these materials and will not hold The Baxter Arts Centre, Sherry Heyliger, or any of our associates responsible if any injury/illness should occur. This class is not suitable for pregnant women or breastfeeding moms, or anyone with respiratory issues unless full face shield respirator & proper PPE is worn.


About Sherry Heyliger
Sherry Heyliger is a fluid artist that sees movement and magic in the everyday. Much of her inspiration comes from her relationship with the natural world; its minutiae and grandiosity; its richness, depth, clarity and simplicity. Sherry started painting in 2017 and within a few months had birthed over 350 pieces of fluid art. It was just the beginning! Sherry shares this meditation on her practice:
"Fluid art... the surrender to the medium and the music... a whole new forum of expression that drove me deeper and deeper to my core. I wanted to share this movement with others... the liberation from all the thinking and the dive into the dance of the heart. Transmitting this knowing, this feeling of interconnectedness, has become my focus. Motion, multi-mediums, magic... whatever is at hand shapes my opportunity to create and share."
Sherry's work has been showcased at The Women's Art Museum of Canada, ARTBOX NYC, The John M Parrott Gallery, Art in the County, Luna Nocturnal Art Festival, Nelson and Arrow Lakes Fine Art Guild's 2019 ARTWALKS, the Keyano Gallery and many more. Originally hailing from Milton, Ontario, she now calls Prince Edward County home after decades living in Alberta and the interior or British Columbia.
---
Learn More