Classes & Workshops
Needle Felted Pin Workshop
Explore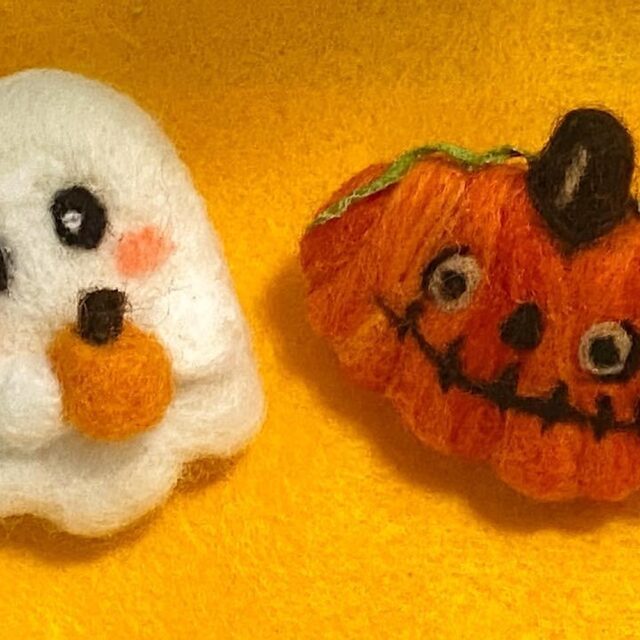 ---
About Needle Felted Pin Workshop
Learn the art of needle felting while creating one of these adorable seasonal pins!
Join us for this fun class as we enjoy learning needle felting while creating beautiful pins to wear or give to someone special! All materials provided! You can choose to make a simple. festive pumpkin, turn it into a jack-o-lantern, or create an adorable ghost carrying a tiny pumpkin! It's up to you! See the photos for examples. There's lots of room for your creativity in this class, and additional wool colours will be available to add personality to your creation!
As fun as this class will be, it is not for children. Needle felting requires the use of very sharp, barbed needles to agitate the wool into a fabric. It is very easy to accidentally poke a finger if you aren't paying close attention or if you don't have good dexterity. The needles are also fragile and break easily. So this class will be suitable for teens and adults. I will provide finger guards and thimbles to help protect fingers. We will start out very slowly until everyone is comfortable with the needle felting method.
As stated above, all materials will be provided. Hot and cold drinks are always here to enjoy for free. The studio has a washroom and a comfy lounge area with couches to relax on. The entrance is on ground level with no stairs, so it is accessible for those using walking aids or with difficulty climbing stairs. We warmly welcome all here! Feel free to enjoy this creative space!
Interesting fact: Did you know that needle felting is an ancient fibre art? It was one of the first methods of making fabric!
---
Learn More