Classes & Workshops
Print + Pint with Yasmine Louis
Explore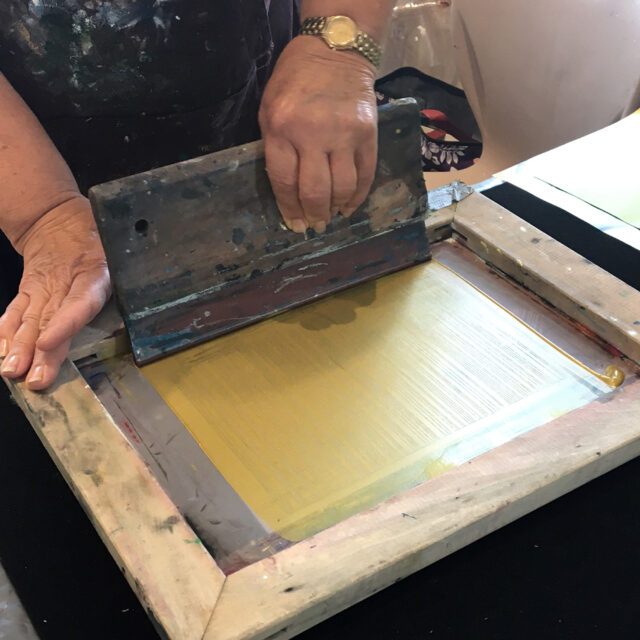 ---
About Print + Pint with Yasmine Louis
A fun and engaging workshop for all skill-levels.
This printing workshop is ideal for anyone who has always wanted to try silkscreening without getting into the technical details.
Learn how to silkscreen using the many screens the teacher will provide with lots of different images to work with (words, trees, birds, etc.).
This workshop is family-friendly, grab a few friends and create matching shirts, then spend an afternoon on a patio enjoying the summer breeze.
While you wait for your prints to dry, head over to All My Friends Brewery, where you will be greeted with music, patio vibes and a special discount on a pint.
Three Workshops to Choose From!
Each workshop is 1.5 hours long and is $35 per person*. This workshop is taught in both English & French!
Friday, August 4 @ 5:30 PM to 7:00 PM
Saturday, August 5 @ 1:45 PM to 3:15 PM
Saturday, August 5 @ 3:30 PM to 5:00 PM
Final Pick Up Time @ 6:00 PM
*We will provide you with inks, the screens, some paper and fabrics, however we encourage you to bring your own materials to make something more personal (blank t-shirts, napkins, pillowcases etc.).
Please wear clothes that are comfortable and can get dirty, or bring an apron. No long hanging sleeves.
About Yasmine Louis
Yasmine Louis is a francophone silkscreen artist based in Toronto. Through the years, she has gained a notable reputation in Toronto's applied art scene and more recently in the visual art field. She has featured her silkscreen printed products and clothing in the largest arts and craft shows across Canada and the U.S. She was commissioned on three separate occasions to create distinct limited-edition signed shirts for the Art Gallery of Ontario. In addition, 13 of her silkscreen prints on paper are part of the City of Toronto's Art Collection. In the past few years, she has taken her work in many directions, exploring different techniques and art forms, including public art and site-specific installations.
In 2019, she was inducted in the One Of A Kind Show Hall of Fame (OOAK). The Toronto OOAK is the largest arts and crafts exhibition in Canada. Each year the show inducts one artist among over 800 who excels in their medium, creating works that are exceptional both in their construction and in their level of creativity.
Louis has participated in artists residencies in Canada, Portugal, the Netherlands, and Iceland. She has been the recipient of creation grants by the Ontario Arts Council and the Canada Council for the Arts, and has sat on multiple juries.
---
Learn More