Performing Arts
Rosalia's Piano
Explore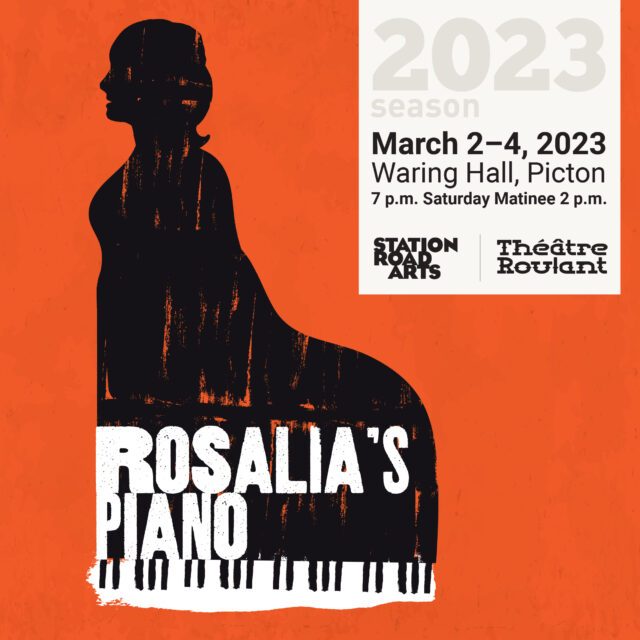 Event Date

March 2 - 4, 2023

Time

7:00 pm - 9:30 pm

Type

In-Person
---
About Rosalia's Piano
War Silenced her Piano but Never the Music
After debuting Canada's only horse-drawn travelling theatre titled Théâtre Roulant, Station Road Arts launches its 2023 season with Rosalia's Piano.
Rosalia's Piano is an entirely original production, based on a true story. The new work is written by Station Road Art's Conrad Beaubien and is Directed by John Burns. The musical score is composed by Gregory Garrett, and he is joined by the talented Quinte Symphony violinist Joel Bootsma. These elements, along with the fascinating integration of animation effects created by Ivan Simonetti and the beautifully vibrant costuming created by local artisans come together to create a truly one-of-a-kind theatrical experience that you won't want to miss.
Director John Burns is excited about the scope of this production, "This performance is much more than a Play. It is also a multimedia piece of installation art that includes a large number of County artists, actors, musicians, designers and artisans!"
Rosalia's Piano tells the story of a married couple Rosalia, a pianist and Ivan, a second violinist in a symphony orchestra in Eastern Europe. When war displaced the pair from their homeland, Rosalia's piano was lost while Ivan was able to save his precious violin. Seeking refuge in the small town of Calumet Falls, Ontario, the couple tries to build a new life for themselves and find their place in this small community. Can love, community, fellowship and the search for a new piano restore their inner sanctuary?
Members of the cast of Shatterbox Theatre's groundbreaking production of the musical Spring Awakening reunite to bring Rosalia's Piano to life. Actress Megan Hutton says "The story of Rosalia and her journey of physical and spiritual refuge drew me to the project. As well as the promise of being part of a production that included animation, music, and performance. I couldn't say no!"
Spring Awakening audiences got to experience the undeniable on-stage chemistry between Megan Hutton and Gabriel Guadagnin and their artistic chemistry continues to shine through their performance in Rosalia's Piano. When asked to join the production in the role of Ivan, Gabriel responded "It was only appropriate that our first role as a married couple…is to play a married couple. Haha. I couldn't pass up the opportunity to act alongside my wife" Shatterbox Theatre's Creative Director, Georgia Papanicolaou lends her magnificent storytelling skills to the production as narrator for the story.
Show dates are set for March 2, 3, and 4th at Waring Hall located on Picton's iconic Waring House property. In partnership with the Waring House, audience members will be able to enjoy pre-show music, hor d'Oeuvres, a cash bar and an interview period with the cast and crew after the show.
Station Road Arts is a not-for-profit theatre company. Their "Beyond the Stage" philosophy strives to use theatre as a platform to showcase local performers, artists and artisans through costume, props, and design. By weaving together talent from all corners of Prince Edward County, Station Road Arts offers a unique Studio-to-Stage experience for all to enjoy.
STATION ROAD ARTS
Contact: Jennifer Simao Marketing/Media Coordinator
Phone: 613-919-7733 | Email: Jennifer@stationroadarts.com
---
---
Learn More