Exhibitions, Other, Festivals, Live Music + Concerts, Performing Arts
The Weber Brothers on their 15th album, The Water Street Trilogy Part 1: 'Wild As The Wild Dogs'
Explore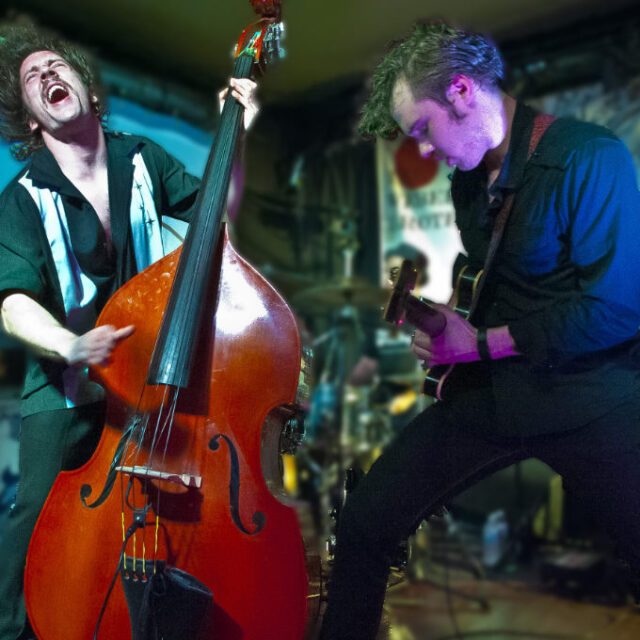 ---
About The Weber Brothers on their 15th album, The Water Street Trilogy Part 1: 'Wild As The Wild Dogs'
IMMEDIATE PRESS RELEASE
Multi-Award winning Peterborough Pathway of Fame Inductees, The Weber Brothers, are on tour celebrating the release of their studio album #15, ' The Water Street Trilogy Part 1: Wild As The Wild Dogs'
released on Nov.12th, 2022.
Enjoy their 1st single
'WILD SIDE'
https://www.youtube.com/watch?v=UB-RngnQB34
There are bands for which rock and roll is a lifestyle, and then there are bands for which it is life. To many, The Weber Brothers are the baddest band in the land.
Their story sits like an ancient volume in an old bookstore, dust-covered, tucked away behind hundreds of newer, shinier books. Untouched. Waiting to be discovered. Regardless of what side you're on, there's an undeniable truth. In the rough and tumble world of rock and roll, The Weber Brothers have been around the block.
Ryan and Sam Weber left their Baltimore, MD home one night as teenagers, with the aim of meeting their idol, rockabilly legend Ronnie Hawkins, and ten hours later showed up at his doorstep. "The Hawk", the elder statesman of rock whose former protégés (Robbie Robertson, Rick Danko, Levon Helm, Richard Manuel, Garth Hudson) went on to reshape music history as "The Band", was duly impressed by the pair's immense raw talent, and promptly invited them to audition for his storied backing band, The Hawks. Mere months later, after surviving the intense musical apprenticeship of his fabled "Rock 'n' Roll Boot camp," they were in.. full-blooded Hawks. By the ages of 18 and 21, they had already performed alongside Kris Kristofferson, Levon Helm, Garth Hudson, Jeff Healey, and TheTragically Hip to name a few.
Over the past 18 years, they've recorded 15 independent albums and toured extensively throughout the U.S., Canada, and Europe.
In October 2012 the brothers were invited to the Rock and Roll Hall of Fame American Music Masters Tribute to Chuck Berry in Cleveland where they shared the stage with Merle Haggard, Lemmy Kilmister, Darryl "DMC" McDaniels, Rick Derringer, Joe Bonamassa, Earl Slick, Steve Jordan and the father of Rock and Roll himself, Chuck Berry.
2016 saw the release of "Before We Arrive: The Story of The Weber Brothers", a feature-length documentary chronicling the pair's musical journey, which the Toronto Independent Film Festival dubbed "Best Documentary" for 2016.
Also highly regarded for their proficiency as studio musicians, the brothers have recorded on hundreds of outside projects, including work with Gordon Lightfoot, Kris Kristofferson, Ronnie Hawkins, and Willie Nelson.
Between their renowned musical ability, high-energy, awe-inspiring performances and lessons learned first-hand from rock n' roll pioneers, a reputation as the "Baddest Band in the Land", "heroes of this generation" and "the future in the big shoes of the past" now precedes them. Whether it be their unrivaled power as a full rock band or their undeniable chemistry highlighted in a head-to-head duo performance, The Weber Brothers always deliver.
"If it's looked at as a passing of the torch or a keeping of the flame, then we're the guys to do it," says Ryan Weber.
***
"The Weber Brothers are the ultimate roots band, playing, writing and doing it all." – Bob Mersereau, Top 100 Canadian Blog
"Enthusiasm…energy-wise the band is great… We know they're great." – Garth Hudson
"If I had The Weber Brothers with me in 1952…Elvis would've been my roadie." – Ronnie Hawkins
JANUARY 14, 2023, at 7:30 pm, The Weber Brothers are back by popular demand, for a duo performance at
The Old Church Theatre located at
940 Bonisteel Rd. in Trenton, Ontario, for their
15th studio ALBUM RELEASE event, entitled The Water Street Trilogy Part 1: Wild As The Wild Dogs'
In a brief window between lockdowns in the summer of 2021, Peterborough-based rock and rollers, The Weber Brothers, found themselves faced with an oddly familiar situation.
"It was the second summer of the pandemic. So opportunities to play as a band were few and far between," says Sam Weber. "And we had quite a bit of material we hadn't recorded yet."
So the brothers called their friend and producer extraordinaire James Mckenty with an idea; to take a day and record the 5 piece band live off the floor. With Marcus Browne on drums, Emily Burgess on guitar, and Ryan "Rico" Browne as a multi-instrumentalist, the group had a back catalog of some 30 songs ready for the project.
"We had a lot of tunes we'd been doing live for a while. To me, the arrangements were pretty strong, and we'd played them enough to know what we were all doing. So why not take a day and try to bang them out live? It's an approach to recording we hadn't done in years."
McKenty rented a building in Gore's Landing (the same building where he would record Neil Young a few weeks later) and brought his mobile recording setup.
"When you work with someone like James, it's a real relief in that you never have to worry about the technical side. You can just focus on playing the music. And on playing together as a band."
What resulted is quite a feat: 31 songs recorded over the course of a 13-hour day. "Wild As The Wild Dogs", the first installment in a collection called "The Water Street Trilogy" will be released in November. With the subsequent 2 albums to be released at a later date.
"I really like the sounds we were able to get. Not much in the way of studio tricks or overdubbing. It's the sound of a band playing live in a room. It's raw and pretty darn rockin, if I do say so myself," says Sam. "We made that building shake."
The album comes with a dedication to the brothers' teacher, mentor, and friend, the Legendary Ronnie Hawkins. "This is a rock and roll album, this is the kind of music Ronnie loved, it only seems right to send it out to him wherever he is now because he's the one who really taught us so much about it, what it really is, and how to really do it. His presence is all over this album, and hopefully, we've done him and all the lessons he gave us some justice," adds Ryan, "This for us is a constant goal."
THIS stellar 15th studio album, The Water Street Trilogy Part 1: 'Wild As The Wild Dogs' is climbing the charts and sits at the #1 spot on the Top 50 Roots Rock Album Chart.
Hurry, don't delay, get your tickets today for this up close and personal duo performance.
TICKETS: https://oldchurch.ca/event/weber-brothers/
Stay in tune with Ryan, Sam, and The Weber Brothers
by visiting:
www.weberbrother.com
https://www.facebook.com/WeberBrothers
https://www.facebook.com/weberbrothersproductions
---
Learn More