Opportunities, Performing Arts, Visual Arts, Film, Classes & Workshops
Vancouver Film School Open House – October 2022
Explore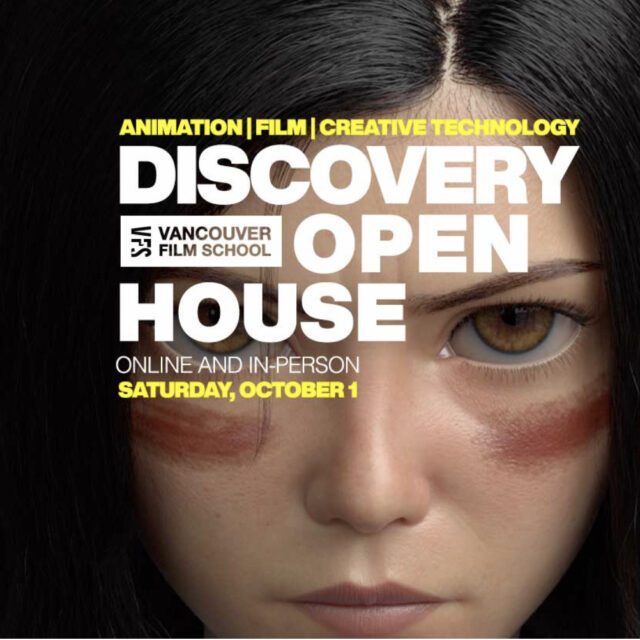 ---
About Vancouver Film School Open House – October 2022
Vancouver Film School Open House – October 2022
Date: Saturday, October 1, 2022
Time: 10 a.m. – 1 p.m. PST
Location: Online & in-person (151 W Cordova St, Vancouver, BC V6B 1E1)
Cost: Free
https://vfsopenhouseoctober2022.eventbrite.ca/?aff=Outreach
Take a behind-the-scenes tour of the world's leading creative media arts school
On Saturday, October 1, VFS invites you to our Open House – an in-person & online event.
From our full-time programs to our part-time online offerings and post-graduate degree opportunities, you will get the full scope of the VFS student experience! You'll also be able to chat with our faculty, staff, & alumni, and watch our 2022 Showreel.
PLUS, all attendees will receive an exclusive discount code for VFS CONNECT – our online workshops & certificate courses.
All 15 VFS programs will have dedicated booths for you to explore in our School of Film & Television, School of Animation & Visual Effects, and School of Games & Creative Design.
At the in-person event, will have the unique opportunity to:
• Attend Discovery Info Sessions, participate in campus tours, have your creative portfolio reviewed, and visit individual program booths for demos & program previews.
• Learn about VFS's 12-month programs and post-graduate bachelor & master's opportunities.
• Learn about VFS CONNECT – part-time, online workshops & certificate courses to prepare you for a full-time VFS program.
• Ask questions about how to get started at VFS and launch your creative career!
For those unable to attend in-person, the online event will feature pre-recorded videos & booths for each of our programs.
---
Learn More