Opportunities, Visual Arts, Film, Classes & Workshops
Vancouver Film School Search Tour - Info Session Ottawa, ON
Explore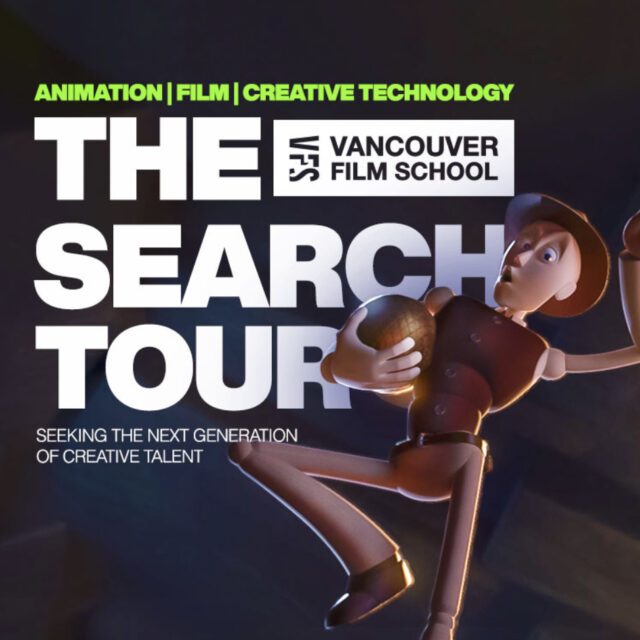 ---
About Vancouver Film School Search Tour - Info Session Ottawa, ON
VFS Search Tour - Info Session Ottawa, ON
Wednesday, September 21, 2022
6:30 p.m. - 7:30 p.m. EDT
Mayfair Theatre, 1074 Bank St, Ottawa, ON K1S 3X3
REGISTER NOW Free to attend but spots are limited.
https://discoveryinfosessionottawa.eventbrite.ca/?aff=Outreach
The Search Tour returns to Ottawa in fall 2022 seeking Canada's most creative talent.
Vancouver Film School is pleased to announce the return of its in-person Search Tour. We're on the hunt for talented, ambitious, and – above all – creative individuals.
If this sounds like you – we want to meet you!
This event features a 45-minute in-person info session, followed by a 15-minutes Q&A, where you'll have the chance to ask any questions you may have. This is your opportunity to see behind-the-scenes of VFS:
• GLOBALLY RECOGNIZED: Learn about our 15 award-winning programs in animation, film production, design and beyond.
• DEGREE PATHWAYS: Learn about our 2–3-year bachelor and master's opportunities post-graduation, including work permit eligibility for international students.
• PART-TIME: Test drive your future with CONNECT – short-duration workshops & certificate courses that top-up your skills and prepare you to study full-time at VFS.
• SCHOLARSHIPS: Find out about the many scholarship opportunities available annually, including our Women in Game Design, Latin American Talent, and Indigenous Arts scholarships.
About Vancouver Film School
VFS is Canada's premier post-secondary entertainment arts institution, offering an immersive curriculum in film, animation, design, and beyond. VFS is known for providing high-quality education in accelerated time frames and offers 15 industry-integrated programs in which students graduate in 12 months as an in-demand, industry-ready creative professional.
In 2021, alumni were credited on 8 of the 12 best-selling games, 5 of the 15 top-rated TV shows, and all 10 of the highest-grossing films (including Spider-Man: No Way Home, Shang-Chi, and Black Widow).
---
Learn More