Classes & Workshops
Weave an Oversized Coaster
Explore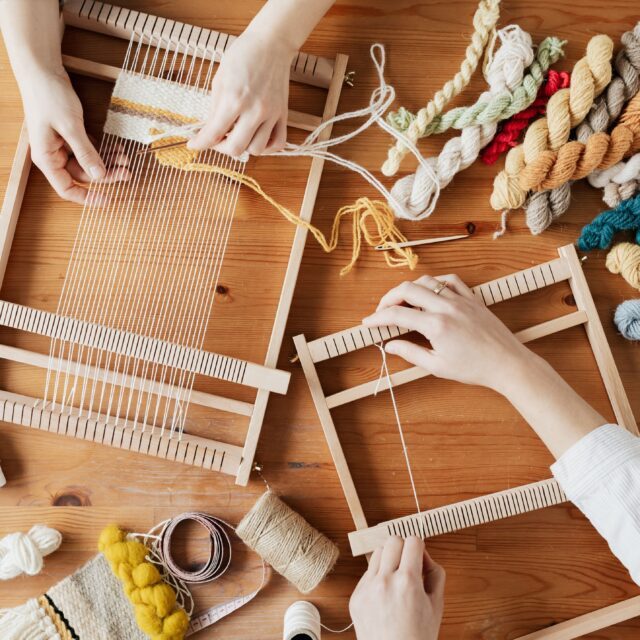 ---
About Weave an Oversized Coaster
Create 4 gorgeous coasters or one oversized coaster with STASH Fibres.
Natural hand-dyed fibre and yarn will be used to weave either an oversized coaster approximately 14 inches square or 4 regular sized coasters. Warping and basic plain weave technique will be covered and wet finishing instructions will be given for completing at home. Wet finishing (fulling) the raw yarn/fibre allows the fibres to bloom and fuse together, creating a beautiful blend of the colours used, and making the piece washable. Could also be a meditation or altar cloth.
This 5-hour workshop is on Friday, October 21 from 12:00 PM - 5:00 PM. $120 per person. Due to the nature of the event, class size is limited to 6 participants.
No previous weaving experience necessary. Materials & Looms will be provided.
About Renee Lortie
Renee is an avid rigid heddle weaver, an indie dyer of natural yarn and fibre. She operates her small business, STASH Fibres, right here in beautiful Prince Edward County. When she's not weaving, she is walking the trails and shorelines of the County with her Boston terriers, Sunny and Rudi, taking inspiration from the natural beauty of the landscape. Weaving is a soothing, calming and meditative process with limitless possibilities for creating personal, one of a kind textiles. Teaching weaving workshops is fast becoming a passion and Renee has a growing list of new projects and ideas she is excited to bring to the Baxter in the coming months.
---
Learn More